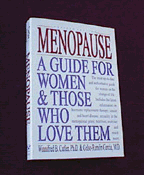 Menopause Related Topics
---
Books and Research by Dr. Cutler
---
Please Click Here To Learn About Dr. Cutler's Newest Book:
Hormones and Your Health:
The Smart Woman's Guide to Hormonal and Alternative Therapies for Menopause
Menopause: A Guide for Women and Those Who Love Them
Published 1983, 1992, (431 pp) Norton.
Coauthor Celso Ramon Garcia M.D.

Pheromones, Sexual Attractiveness and Quality of Life in Menopausal Women.
By Winnifred B. Cutler, Ph.D. and Elizabeth Genovese,M.D. Published June 2002 in Climacteric, the Journal for the International Menopause Society
Wellness in Women After 40 Years of Age: The Role of Sex Hormones and Pheromones: September 1998, Disease-a-Month medical journal comprised entirely of monograph by Winnifred Cutler, Ph.D. and Elizabeth Genovese, M.D.
Current Problems in Obstetrics, Gynecology, and Fertility
Mosby medical journal reissues updated Cutler/Genovese monograph in two parts.
Human Sex-Attractant Pheromones: Discovery, Research, Development and Application in Sex Therapy
January 1999 Article by Dr. Cutler published in peer review journal, Psychiatric Annals. She explains how a partner's decline of sexual interest may be due to diminished pheromonal output caused by hormonal changes, aging, and pelvic surgeries.
Oophorectomy at Hysterectomy: A practice that does not withstand scrutiny

Discoveries by Dr. Winnifred Cutler
A Bibliography of Dr. Cutler's Published Work
See other books and papers written by Dr. Cutler